Updates
2015-04-26> A more in depth look at the Record Store Day pressing mix ups. 10% of copies are packaged wrong so you see the band through one of the covers. And two copies included a Tool EP instead of the U2 vinyl. A special U2Wanderer.Org report.
2015-04-18> Happy Record Store Day! In honor of the new release by U2 for RSD, a limited edition numbered edition of "Songs of Innocence" we've come up with the map above to track the release, and where it has been found in the wild. If you want to have your copy listed, tweet us at @U2W and let us know what number you have, and where you purchased it. We will keep it here on the front page for now, but eventually we will archive it on another page on the site.
2015-04-10> It's a great honor to be asked to write up some of my experiences for the 'Five Things I've Learned Running A U2 Site for 20 Years' article on Zootopia at U2.com.
2015-04-10> Twenty years ago this week, AJ uploaded his first U2 Web site to the University of Ohio State as part of a final class project at Mount Allison University. It started as a list of singles and b-sides released since the discography in the Rattle and Hum movie book (1988 - 1995). That list has been maintained ever since - first at Ohio State, then at TUNS, finally moving on to free sites at Geocities and Xoom, then at home on u2.org before we opened u2wanderer.org on June 11, 2000. Over those twenty years, there has been numerous people who have helped out, far too many to thank individually, but I want to say each contribution has been welcome and thank you if you have contributed. I would like to take a moment to thank the current staff, Carl, Brad, Mike, Don, Aaron, Harry and George. We are currently working to bring you a new version of the site, and are excited about what the future holds. Happy anniversary! :)
2015-04-01> On April 14th the U2 fan community world wide are hoping to shine a light on some rarer U2 songs that they would like to hear live in concert. They will be tweeting about these songs using the hashtag #U2Request on April 14th on Twitter. At the end of the day the votes will be counted to see what U2 fans participating in this fun exercise wanted to hear. This is to celebrate U2, their history and their discography of songs.
Start Time: Begin tweeting using the hashtag #U2Request at Midnight or anytime thereafter on April 14th in your local time zone. You may tweet throughout the entire day. Each tweet must include only one song title. They ask you don't include additional lyrics, song titles, text etc. Attached images are fine. Also suggested to use #U2 and #U2IETour. More can be found at #U2Request and a document explaining more can be found in this tweet
And if you are looking for a list of songs to get you started: Our By Songs Listing
2015-03-17> Happy St. Patrick's Day. We're happy to be able to show you the cover for the new RSD version of "Songs of Innocence". Note that it will contain the "Record Store Day" logo and will also have the date of Record Store Day printed on the vinyl. This will make it different than the version produced for the Grammy nominations. Further information on this release below.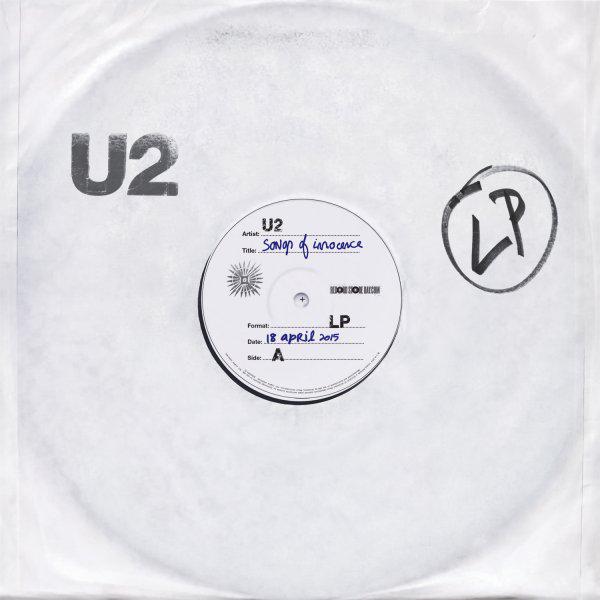 2015-03-10> U2 will release a double 12-inch special pressing for Record Store Day. The vinyl will be limited to 6000 copies in the USA, but is also being listed as available in Record Store Day promotions in the UK, Germany, and the Netherlands. The vinyl will be numbered on the sleeve. The vinyl will be pressed in black vinyl. The first vinyl will be a copy of the album "Songs of Innocence" and the second vinyl will contain "Lucifer's Hands," "The Crystal Ballroom," "The Troubles (Alternative Version)," Sleep Like a Baby Tonight (Alternate Perspective)," and "Invisible" on one side. The second side will contain the Acoustic Sessions. This material is the same material that was released on the second CD of the deluxe album and is still available in stores. Expect the vinyl to be priced around $39.99 in the US. The UPC of this item is 602547244796. Record store day is Saturday, April 18th this year. From the descriptions provided this double vinyl set will be similar to the September release of the vinyl for Grammy consideration. That vinyl was packaged in a plain white sleeve, with a die cut center so you could see the center of the vinyl. The label on the vinyl was done to look like a white label. It was similar in look to what was used on iTunes for the initial release of the album.
2015-02-08> U2.Com has revealed more information about the fan club gift this year. The double 10-inch vinyl set will be called "Another Time, Another Place: Live at the Marquee 1980" and will have the following cover: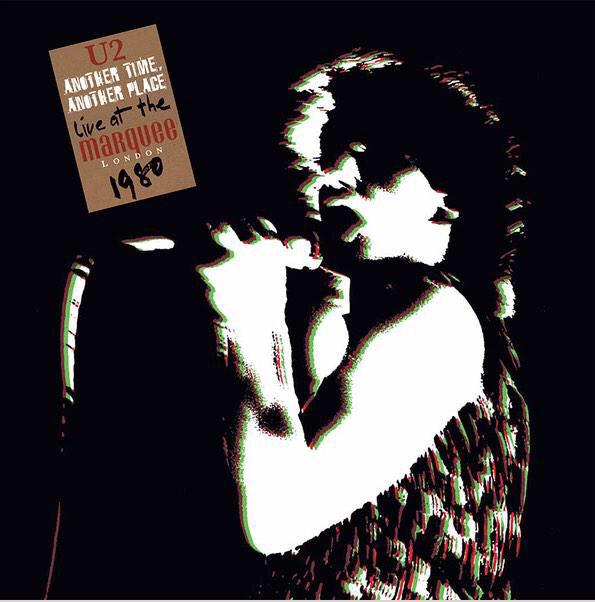 2015-01-23> Universal Records is starting to circulate a new version of "Every Breaking Wave" to radio. The version is similar to the performances of the song last October at the EMAs and at the Bambi Awards. It appears to be a new studio recording and is 4:36 in length. The song made it's debut yesterday on the Today FM radio station in Dublin. Expect that a commercially available version of the recording to be available soon as a single, likely only as a digital release. Original plans had called for the release to be January 12 according to the UK Promo CDR that has been circulating since November. That particular promotional CDR contains the album version of "Every Breaking Wave" with only a slight edit at the end, and not this new version. It is not known if a second promotional CDR will be pressed with this new version.

2014-11-25> From U2.com comes the announcement of the 2014/5 Subscription package. This year, the fan club is offering two 10-inch vinyls in a bespoke gatefold sleeve (bespoke means custom made). The vinyl will contain a live show from 1980, digitally remastered. The site goes on to say "Recorded in a small club with just a few hundred in the audience, this rare live set comes from a period when the band were taking early songs like The Electric Co, I Will Follow and Out of Control on the road across Ireland and the UK. The ideal companion to North Side Story, the definitive account of the band's Dublin rise from Out of Control to Under A Blood Red Sky (see below), this limited-edition release is only available to U2.com subscribers. Produced on vinyl, true to the show's original vintage, you'll also be able to digitally download the entire set. (Cover artwork, title and tracklisting to be announced. Physical delivery expected Spring 2015. Some tracks available to download in advance)"

2014-10-21> Update on the Japan releases: The one-disc version appears to have no extra tracks. On the two-disc version "Invisible" is listed as a sixth track (yes listed separate from "Sleep Like a Baby Tonight", and "The Crystal Ballroom (12-Inch Remix)" is listed as track seven on the OBI (on the second disc.)

2014-10-09> The official site is now streaming "The Crystal Ballroom (12" Mix)" for subscribers. You will have to be logged in to hear the song. The song runs 7:27 and is a 256kbps mp3 file. This mix is not available on the deluxe version, and so far is only known to be coming on the vinyl versions of the album. The page doesn't mention whether it is streaming for a limited time but in the past, u2.com has sometimes limited things, so take a listen while you can.

2014-10-02> There's been a number of interviews again this week airing on radio stations:

Clicking on the links above will take you to the station pages where they are streaming the interview. These may be up for limited times. See also our list below of the earlier promo blitz.

2014-09-29> Perhaps a way to break the Grammy cutoff tomorrow? Starting yesterday Amoeba Records in California were selling a limited number of 12-inch white label copies of the new U2 album. This is a one-disc release with just the songs that were available in the iTunes release, with no bonus track. The black vinyl has a white label on each side reminiscent of what we saw in the Apple release. And the whole thing is being released in a white sleeve. It is NOT an Amoeba exclusive however, and one store in Long Island is now selling these, but only to customers who visit in store. Amoeba estimated having 20-30 copies per store and the store in NY says 300 copies were pressed. More info as we find it...(Amoeba is now sold out - sorry!) The catalog number for this release is B0022141-02 and the UPC code is 6 02547 05525 5. Copyright information and the Interscope logo are on side B.

2014-09-26> Amp Visual have posted a photo of the Deluxe Edition.

2014-09-26> The 12-inch version of the album is now listing the bonus track as "The Crystal Ballroom (12" Mix)" - previously it was just refered to as an exclusive remix. The digital "Deluxe Version" will include the following tracks:
Lucifer's Hands (3:54)
The Crystal Ballroom (4:39)
Every Breaking Wave (from Acoustic Sessions) (4:28)
California (from Acoustic Sessions) (3:19)
Raised by Wolves (from Acoustic Sessions) (3:57)
Cedarwood Road (from Acoustic Sessions) (3:18)
Song for Someone (from Acoustic Sessions) (3:35)
The Miracle (of Joey Ramone) (Busker Version) (4:06)
The Troubles (Alternative Version) (4:32)
Sleep Like a Baby Tonight (Alternative Perspective by Tchad Blake) (10:27)
The bonus disc has an overall run time of 46:15. Bono has mentioned that "Invisible" may show up as well, and it was suggested to me that there would be a hidden track on the album (a hidden track called "Invisible"?). Adding to this speculation, Amazon in France have listed "Invisible" as part of the title of the last song. And the track timings show an overall song length of 10:27 for the last track. If "Invisible" is showing up it's likely at the end of disc two in my opinion. Remember Billboard suggested there were additional tracks being shopped around for exclusives to some retailers, if anyone has any information please contact us. The packaging for the deluxe version is a bespoke 6-panel digipack printed full colour with high-shine clear gloss, spot varnish overprint, there are 2 printed wallets inserted at either end of the packaging to contain the two CDs. There are also two 16-panel booklets. Each CD label has a white printed body with a high-shine clear gloss, spot varnish overlay.

2014-09-23> There was a barrage of promo interviews done over the last week around the world with various media outlets. We've tried to keep them straight for you - but let us know if we are missing any:
Radio Koeln, Germany: Bono interviews with Katharina te Uhle (No current known download link)
2014-09-14> In case you missed our conversation on twitter, it appears that the cover in use on Beats (Apples streaming product) is different than the cover in use in iTunes. You can see the two images side by side in the following image that we have posted.
2014-09-12> Billboard Article reveals Universal Musics current plans for the in-store release of "Songs of Innocence" including info on bonus tracks, and price points.
2014-09-11> In an article on Billboard today they mention that sources claim that U2 are ready for the backlash of this being an iTunes only launch and "to entice retailers, Universal is offering four tracks that iTunes will not have until November, according to sources. Some retailers could walk away with more tracks, as sources say Universal has three additional tracks for select retailers". The four additional tracks are mentioned and named below in the news, but these three additional tracks may be something new and exciting. Anyone with any information on retailer specific releases, please drop us a note.
2014-09-11> The Apple keynote address is available as a video podcast. Which means you can relive U2's performance of "The Miracle" over and over again in HD. Point your iTunes to the store, and then to the podcasts, and look for the Apple keynote.
2014-09-10> "The Miracle" is the first single release from the new album. Cover is available to be viewed here.
2014-09-09> Available now to all iTunes users worldwide, a free download of U2's newest, and just announced album "Songs of Innocence". Download available until mid-October. A physical copy will be released on October 13. A deluxe version will be released at that time, featuring two 5-inch CDs. Will contain an acoustic session of select songs from the album plus four additional tracks: Lucifer's Hands, The Crystal Ballroom, The Troubles (Alternative version), Sleep Like A Baby Tonight (Alternative Perspective Mix by Tchad Blake). A 2-disc white vinyl release will also appear that day with an exclusive remix of The Crystal Ballroom. Cover is available to be viewed here.
2014-09-09> First real news update in a long long time. Welcome back.
We're feeding twitter updates onto the front page for now, longer articles are up on a separate weblog. At some point the site will be re-architectured and things will be a bit less scattered.