Thanks to Next Byte Australia, one very lucky U2 fan will score an Apple Special Edition U2 iPod. All you have to do is answer one simple question:
Born in 1955, what is the name of the Apple CEO?
The answer was "Steve Jobs" and we're pleased to announce that we have a winner!
As of the 15th of January 2005 entries were no longer being accepted. One e-mail was selected by random from the thousands of correct answers entered (thanks to everyone for the overwhelmng participation), and we've contacted and confirmed her.
The lucky winner is Anna W. from the UK, and her limited edition U2 iPod is on its way in the mail!
The competition was open to everyone world wide...once again it was great to see the response!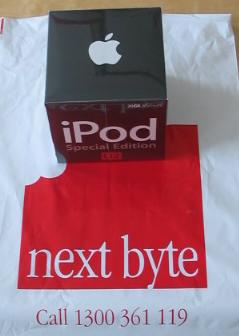 This promotion would not have been possible without Next Byte Australia, Australia's Macintosh specialists. If that piques your interest, click their banner to check them out.